http://e3.365dm.com/18/07/70x70/skynews-thailand-cave-rescue_4361570.jpg?20180714070208
Twelve boys recovering after they were rescued from a flooded Thai cave will be discharged from hospital on Thursday.
The announcement was made by Thailand's health minister Piyasakol Sakolsatayadorn.
He said: "We need to prepare both the children and their families for the attention they will receive when they come out."
2:49
Video: 'Relief' the emotion for cave diving heroes
The children and their 25-year-old football coach were retrieved following a risky three-day operation which concluded on Tuesday.
Four of the boys were freed last week on Sunday, another four were released on Monday and the final four plus their coach were rescued on Tuesday.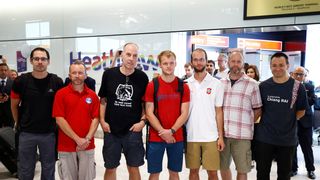 2:23
Video: British diver: 'Unbelievable' finding Thai boys alive
The mission involved 13 foreign divers – around half of which were British – and the youngsters were given a "minor tranquilliser" to calm their nerves, according to Thailand's junta chief.
The boys had gone missing while exploring the cave after football practice with their coach on 23 June.
But bursts of monsoon rain caused the water inside the cave to rise, leaving them trapped.
More follows…